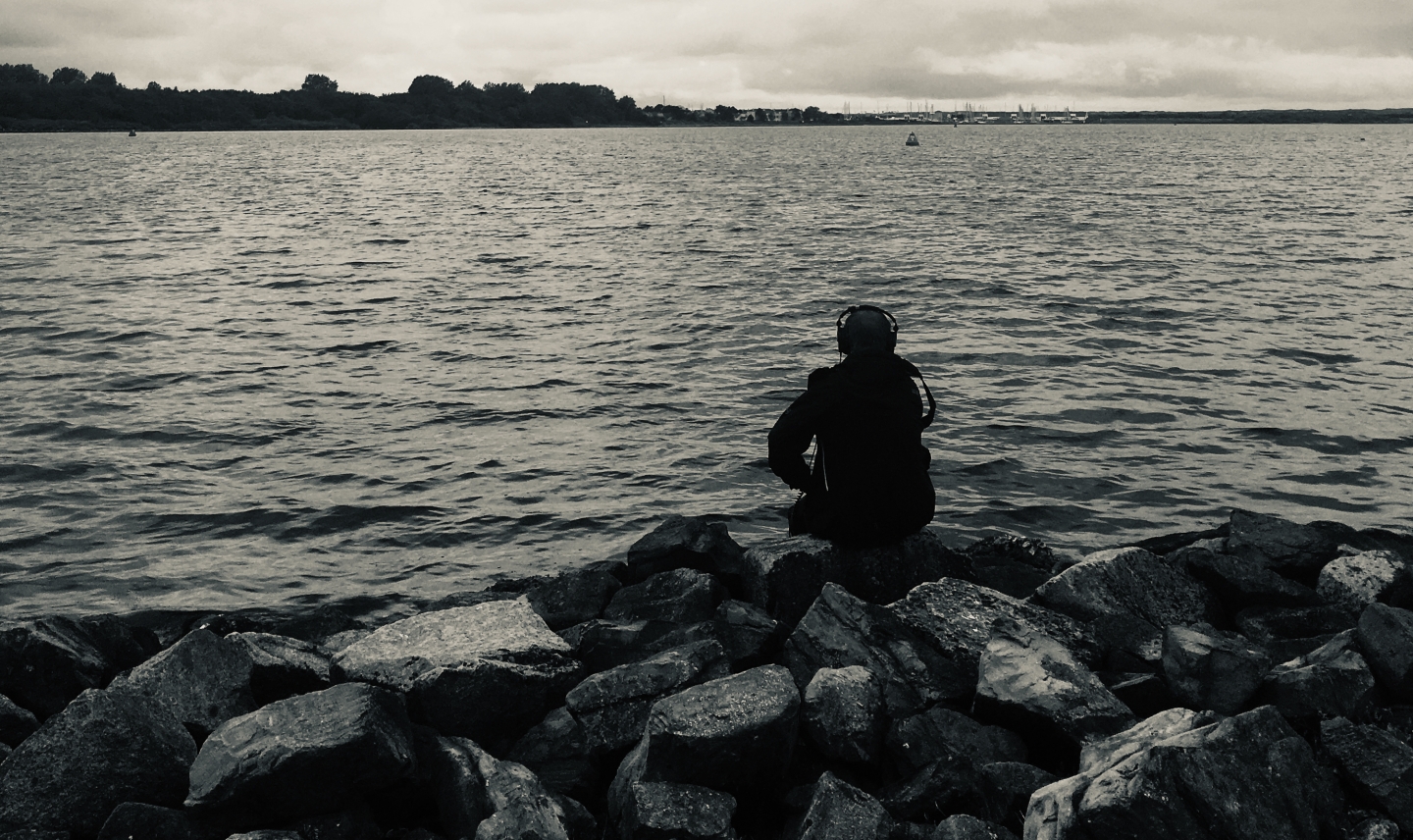 About Stijn's residency at iMAL
Stijn Demeulenaere has been commissioned by Concertgebouw Bruges to develop an installation for their 2021 program. For this installation, the artist will focus on underwater sounds from the North Sea. The underwater sonic world is a very diverse and intriguing one. The North Sea is a shallow sea, a murky water, where visibility is rather limited. This is a world where sound travels further than sight, and offers much more information about the world around ourselves, compared to visual stimuli. Sea animals make a fantastic range of sounds, most of them very different from the ones we know above water. Underwater microphones or hydrophones are a means to make this audible to us as well.
During his residency at iMAL he will do the speakertests and setuptest for the installation, while simultaneously working on the dramaturgy of the definitive installationform.
BIO
Stijn Demeulenaere is a sound artist, searching musician, and field recordist. He holds degrees in sociology, cultural studies and studied radio at the RITCS, Royal Institute for Theatre, Cinema and Sound. Stijn was the curator and producer of the free form radio show 'Radio Eliot' on Radio Scorpio. He worked as a journalist for Belgian national radio stations Klara and Radio 1 and for the independent radio station Radio K Centrale in Bologna, Italy. He was a founding member of the improvisation collective Karen Eliot. Since 2009 he is creating installations, soundscapes, performances, and does sound design for dance and theatre.
Stijn is attracted to sound because of its directness, its malleability, and its mystery. In sound he tries to unravel social structures, personal history and the unconscious imagination of people.
He is currently working around the themes of the phenomenology of listening and the personal experience of sound. Stijn researches how people give meaning to sound, and the relationships between identity, sound and listening.
His work was shown in, among others, Flanders Festival Kortrijk (BE), Concertgebouw Bruges (BE), Kaaitheater (BE), Dutch Media Arts Institute (NL), Den Frie contemporary art centre (DK), Iklectic (UK), Ancienne Belgique (BE), iMAL (BE), Le Mans Sonore (FR), International Film Festival Rotterdam (NL), Rencontres Internationales Paris/Berlin (FR/DE), Musica, (BE), NAISA (CA), November Music (NL), STUK (BE), Bâtard Festival (BE), São Paulo Bienal (BR), Radio Futura Festival (PT), Working Title Festival (BE), Helicotrema Festival (IT), FIBER Festival (NL), and the Museum of Fine Arts Ghent (BE). Apart from creating his own work, Stijn has been increasingly involved with dance in recent years. Among others, he created soundtracks for choreographers like Marisa Cabal, Stav Yeini, and Veli Lehtovaara; and for theatre makers Mesut Arslan and Pieter De Buysser. Together with Georgia Vardarou and Marisa Cabal he created the site specific performance Sonic Theatres. Stijn also works with directors and video artists like Jan Locus and Visual Kitchen. Recently he also has started collaborations with several musicians.
Stijn has been artist in residence at among others, Overtoon (Brussels, BE), Cimatics (Brussels, BE), and Imagine2020 (UK). He is currently artist in residence at the Kunstenwerkplaats VZW in Brussels (BE). His work won prizes at the 2019 Engine Room International Sound Art competition (UK), the 2014 soundscape composition prize of Musica (BE) and won the Grand Prix at the 2020 Split Videoart Festival. His work was also nominated for, among others, the 2016 Discovery Award at LOOP Barcelona (ES), and the 2016 European Sound Art Award (DE). In 2017, he released his first album Latitudes – September 2016 on the Silken Tofu Label. Stijn lives and works in Brussels (BE).
Pictures of Stijns's work at iMAL