Practical information
Address
30-34 Quai des Charbonnages / Koolmijnenkaai
1080 Brussels, Belgium
Get directions: Google Maps / Open Street Maps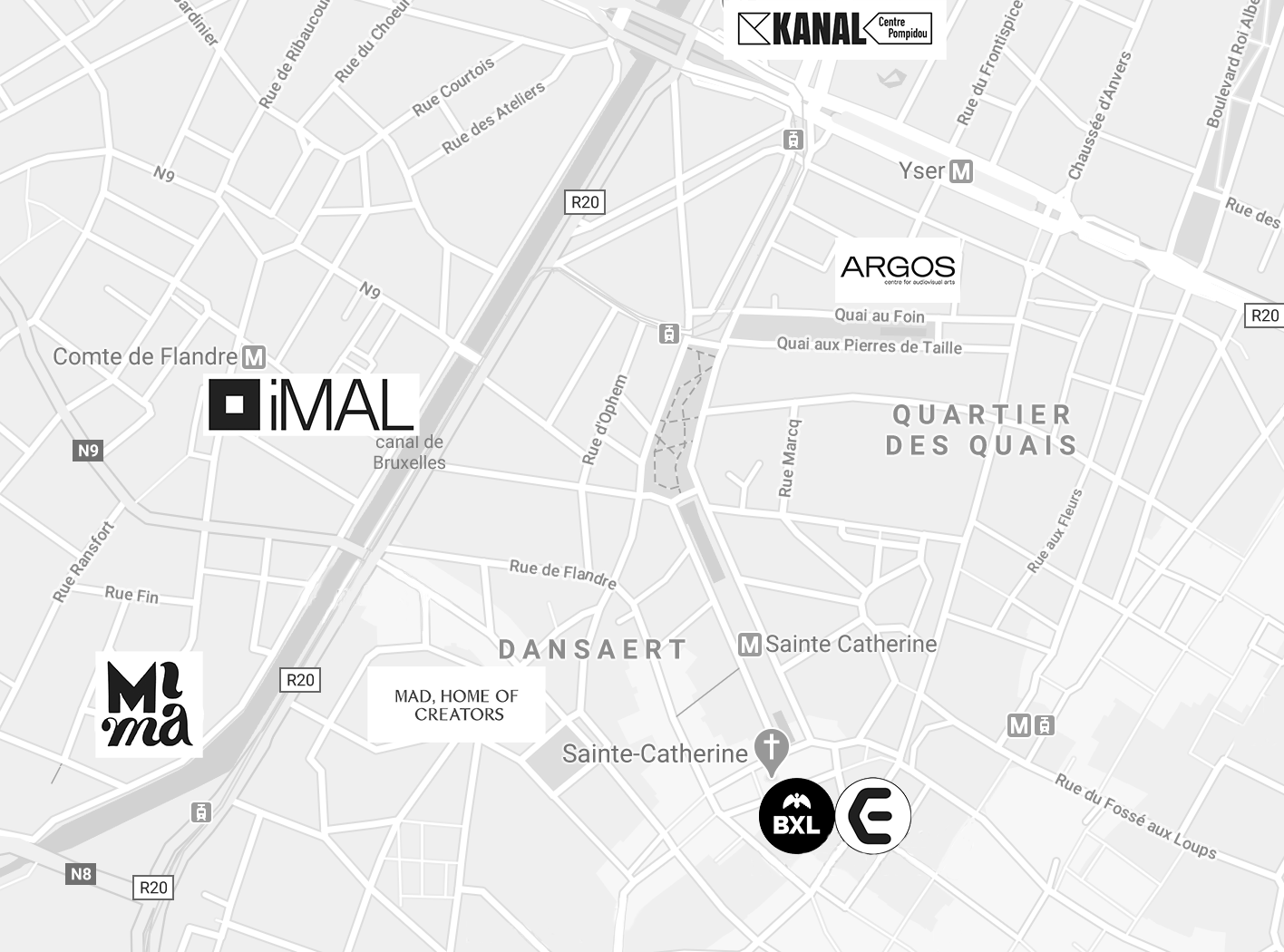 Getting there
METRO

Line 1 & 5, Stop: Comte de Flandre / Graaf van Vlaanderen

TRAM

Line 51, Stop: Porte de Flandre / Vlaamsepoort

VILLO

Porte de Flandre / Vlaamsepoort

TRAIN

From Brussels Central, take metro 1-5 ; from Brussels South, take tram 51.

CAR

Paying street parking is available in the neighbourhood.

AIRPORT

Airport: From Brussels National Airport (BRU), take the train to Brussels Central and then take the metro.
Persons with reduced mobility: Please contact us by mail or at (+32)(0)2 410 30 93
Opening Hours
MONDAY - TUESDAY

Closed

WEDNESDAY - THURSDAY - FRIDAY

15:00 – 19:00

SATURDAY - SUNDAY

14:00 – 18:00
Tickets
NORMAL RATE: 8 euro*
REDUCED RATE: 4 euro (Students, Citizens of Molenbeek, Unemployed, 65+,..) **
MUSEUMPASSMUSEES: Free
*This can change depending on the exhibition.
**Requires proof at the entrance
Fablab Opening Hours
Due to the COVID-19 measures the opening hours of our Fablab have changed until further notice:
Monday

17:00 - 22:00

Wednesday

13:00 - 18:00
More information about the Fablab here. You can also contact us by mail to fix an appointment for a visit.
Kids & Families
We are open for families with younger children and we have dedicated workshops and other activities for children above 12 years old! Please check out our programme for more information.
iMAL is also a partner of Fablab'ke, a Fablab created together with the Maison des Cultures et de la Cohésion Sociale de Molenbeek that is a part of the CASTII-project. Fablab'ke offers dedicated activities for the younger ones. More information here.
Groups & Schools
General group visits: contact us by mail or at (+32)(0)2 410 30 93
We offer a range of activities dedicated to specific groups, that can be tailored to your particular needs.