Bookscanner Launch by Luuse
18:30-22:30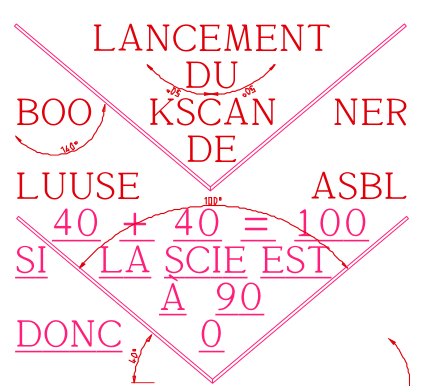 Luuse is very happy to invite you to the inauguration of its bookscanner.
Bibliodiversity is profoundly ecological, in that it is made with the margins and from situated realities. It thus supports unity in diversity, "pluriversality", - making a world out of several worlds. [...]
Le livre est-il écologique? Matière artisans, fictions., WildProject, 2020.
40+40=100 si la scie est à 90 donc 0 shares Luuse's research project Archivism, which rethinks, experiments and produces different forms of archive. It will be about bookscanner, optical character recognition, databases and data curation, piracy and common goods.
In order to make it a collective experience, visitors can come with a USB key and a book that seems to address these concerns in some way.
This event is possible thanks to our artist residency at the iMAL fablab.